Project Description:
The Girls Centre project ensures that Girls in under-served communities receive an equal opportunity in education and future development. The Girls Centre will provide girls with a safe and affordable place to live while attending school from grade 9 – 12. All funds donated to this program are currently being used to promote Phase 1.
Number of Girls' Centres to build: 1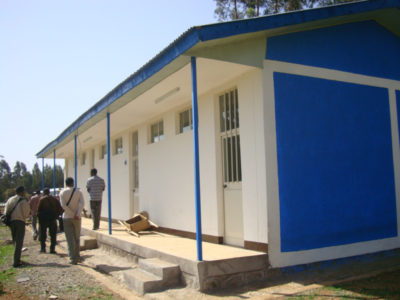 Expected Building start date: 2018
Housing capacity: 12-24 children
Sponsorship cycle: 4 year cycle per sponsored child
Current fundraising goal (Phase 1): +$65,000 USD
Phase 1 Project Details:
The Ethiopian government has committed to donating the land for this project in close proximity to the local school. Using high-quality building materials, the Girls' Centre development initiative will provide safe and affordable girls housing to students attending school in disadvantaged communities in Ethiopia. Building sites will be equipped with bedrooms and bathrooms as well as a kitchen, living room, dining room, and library. Phase 1 of the development project will feature 1 Residential Building, 1 Kitchen/Dining Room Building, 1 Office/Administrative Building, and 1 Education Building. Phase 1 will be constructed to allow for additional developments and future extensions on the land.
Residential Building Unit: Each residential building unit will feature 6 PVC tiled bedrooms with bunk beds and tables, a ceramic tiled lobby entry way, 4 showers, 2 toilets, 6 sinks, and safe water from an elevated water supply.  The technical sketch below shows the floor plan of one residential building.
Education Building Unit: Each education building unit will feature 3 PVC tiled classrooms, a storage room for learning supplies, 3 toilets, 2 sinks, and safe water from an elevated water supply.  The technical sketch below shows the floor plan of one education building.
Extensions and Future Development Plans: The technical sketch below shows the extended development plan for the land including: additional residential units, education rooms, kitchen/dining facilities, and administrative buildings. Land will be developed and landscaped to dedicate room for sports fields and outdoor activities.